High precision structural monitoring Inclinometer sensor
| | |
| --- | --- |
| Product Model : | ZCT2xxM-LBS-Ax-H5-460x |
| Measuring Range : | ±15 ° |
| Output : | RS485 |
| Power: | Voltage(8~36V) |
| Measuring Axis : | Dual Axis |
| Accuracy : | 0.001°-0.005° |
| Resolution : | 0.001° |
| Application : | Machinery |
| IP Degree : | IP67 |
| Temperature : | -40℃ ~ +85℃ |
ZCT2xxM-LBS-Ax-H5-460x is a two-axis high-precision digital (RS485) tilt sensor developed by Shanghai Zhichuan Electronic Technology Co., Ltd., which is compatible with Modbus RTU protocol; (±15° measurement rang, Aluminum alloy case, IP67). Comply with EMC/CE standard and pass IECEx Explosive Atmospheres certification.
Technical Parameters:(Unless otherwise noted, the following parameters are typical values at room temperature (25 ° C))
ITEM
CONDITION
MIN
TYPE
MAX
UNIT
Electric Parameter
Voltage Source
8
36
V(DC)
Quiescent Current
(Power source DC24V)
15
20
mA
Working Temperature
-40
85
℃
Performance Parameter
Measuring Range
±15°
°
Resolution
9600bps

Question and answer mode

0.001
°
Accuracy
0~±15°
±0.005
±0.01
°
Cross axis error
±1
%
Zero Temperature Drift
-40~+85℃
±0.002
°/℃
±0.13
°
Refresh Time1
9600bps Question and answer mode
40
ms
Power-on startup time
0.5
s
Zero deviation
±0.05
°
Other
Size
W/O Mounting plate
 87*59*28
mm
W/ Mounting plate
115*87*34.5
mm
Note: 1, The update time is the time it takes for the sensor's biaxial angle value to be updated once. Therefore, in the question and answer mode, the transmission of the next angle query command should be kept at least 40 ms apart from the end of the previous angle query command.
Model introduction of the series

Wiring Definition:
M12 fastening head:
| | |
| --- | --- |
| Wire Color | ZCT2xxM-LBS-Ax-H5-460x |
| Red | Power Source Positive |
| Yellow | 485B |
| Blue | 485A |
| Black | Power Source Negative |
M12-4 core male connector:
| | |
| --- | --- |
| Pin | ZCT2xxM-LBS-Ax-H5-460x |
| 1 | Power Source Positive |
| 2 | 485B |
| 3 | 485A |
| 4 | Power Source Negative |
Working Instruction:
ZCT2xxM-LBS-AH-H5-460x Product Horizontal installation (otherwise it will affect accuracy), the measurement direction is as follows: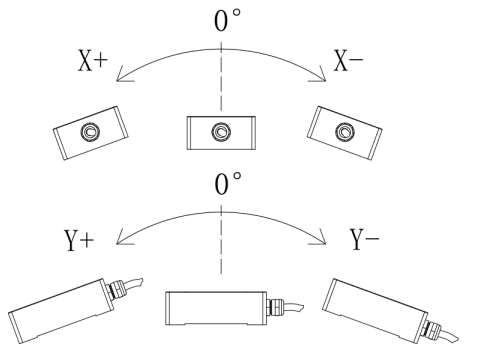 ZCT2xxM-LBS-AV-H5-460x Product vertical installation (otherwise it will affect accuracy), the measurement direction is as follows: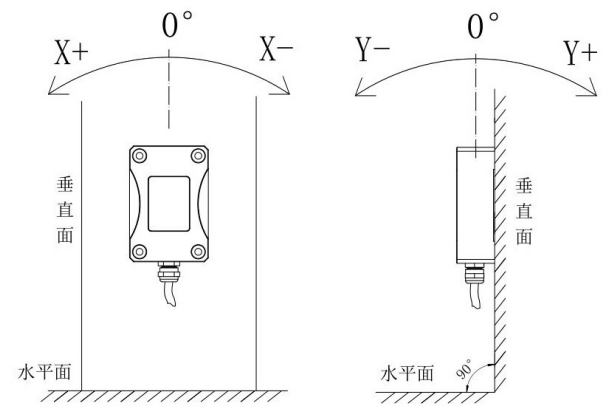 Product Size:(Unit:mm)
W/O Mounting Plate(Default):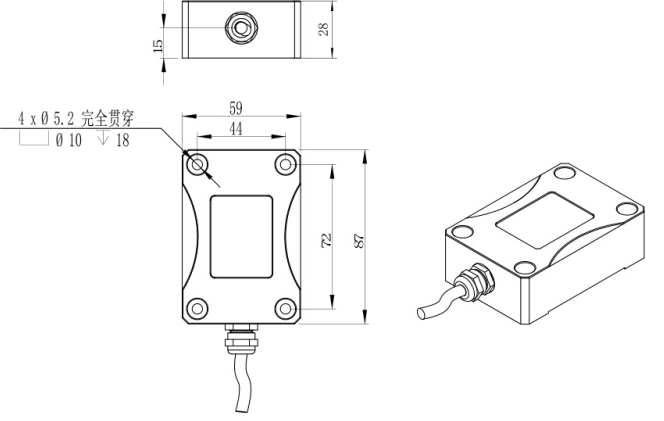 W/ Mounting Plate: