Inclinometer current output 4-20mA high resolution
| | |
| --- | --- |
| Product Model : | ZCT205M-LPS-7205 |
| Measuring Range : | ±5 ° ( ±10 °) |
| Output : | Current(0~20mA) |
| Power: | Voltage(12~36V) |
| Measuring Axis : | Dual Axis |
| Repeatability: | ±0.05°%FS |
| Accuracy : | 0.005°-0.01° |
| Non Linearity : | ±0.1 %/FS |
| Application : | Others |
| IP Degree : | IP67 |
| Shell Size : | 90 * 54 * 39 mm |
ZCT205M-LPS-7205 is a dual axis high-precision analog tilt sensor developed by Shanghai Zhichuan Electronic Technology Co., Ltd. Standard 4mA to 20mA current output in three wire system. It has strong anti-interference characteristics and is suitable for long-distance signal transmission.

Features
Industrial components, high stable and reliable
shock resistance, Anti vibration
Strong aluminum alloy housing, IP67

Application
Structural health monitoring
tilt monitoring
Construction machinery
Construction vehicle
Technical Specifications:(Unless otherwise specified, the following parameters are typical values at room temperature 25 ℃)
Parameter
Condition
Min.
Typical
Max.
Unit
Operating Parameters
Power Supply Voltage①
12
36
V(DC)
Quiescent current
24V power supply
25
30
mA
Working temperature
-40
85
℃
Performance Parameters
Measurement range②
-5.75
5.75
°
Non- linearity③
VCC=24V
Load resistance =200Ω
±0.1
%/FS
Sensitivity
1.3827
1.3913
1.3999
mA/°
Zero-point temperature drift
-40 ~ +85℃
±0.002
±0.004
°/℃
Cross-axis sensitivity
±0.2
±0.3
%
Load resistance
VCC=24V
600
Ω
Zero-point output
0°
11.713
12
12.287
mA
Others
Dimension
85*70*40
mm
Cable length④
0.4
0.5
0.6
m
Remark 1 : The power supply has reverse connection protection. To ensure the product works normally, the power supply voltage should be within the allowable range. The recommended working voltage is 24 V.
Remark 2 : The product should be installed horizontally.
Remark 3 : Non-linearity indicates the deviation between the output curve and the best fitting line within the measurement range of the sensor.
Remark 4 : Default cable length is 0.5 meters. If other cable length required, should specify it on PO.
Wire connection definition: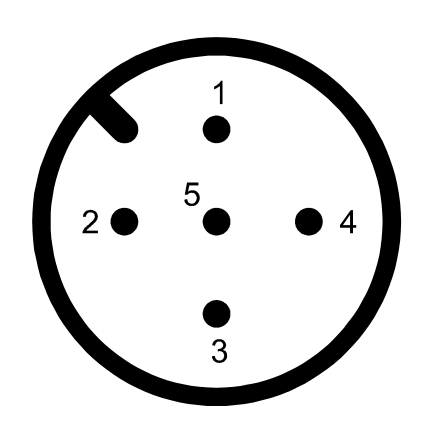 | | | |
| --- | --- | --- |
| Pin | Function | Color |
| 1 | Power supply positive pole | BN(Brown) |
| 2 | Y-axis output current | WT(White) |
| 3 | Power supply negative pole | BU(Blue) |
| 4 | X-axis output current | BK(Black) |
| 5 | GND | GY(Grey) |
Working state and wire connection illustration