High accuracy wireless digital inclinometer with LCD screen and strong magnetic mounting
| | |
| --- | --- |
| Product Model : | ZCT-CX09 |
| Measuring Range : | ±90 ° |
| Output : | Digital Output |
| Measuring Axis : | Dual Axis |
| Accuracy : | 0.005°-0.01° |
| Application : | Machinery |
| IP Degree : | IP67 |
| Temperature : | -40℃ ~ +85℃ |
| Shell Size : | 94 * 64 * 32 mm |
ZCT-CX09 is a high accuracy wireless digital inclinometer with LCD screen and strong magnetic mounting, developed and produced by Shanghai Zhichuan Electronic Technology Co., Ltd. It supports dual-axis, ±90° (recommended range ±60°) and single-axis 360° measurement.
When dual-axis measurement is enabled, both Angle-measurement mode in degrees (°) and the Height-Difference-Measurement mode in millimeters/meters (mm/m) can be selected.
When single axis measurement is enabled, 360°counterclockwise, 360°clockwise and ±180°measurement direction are supported; customized relative zero point is supported.
Product Feature
■ Results displayed OLED in real time.
■ Portable design; multiple functions.
■ Built-in rechargeable Li-ion battery.
■ Bluetooth 5.0 BLE,customizable protocols.
■ Reserve the LoRa module interface to retain the scalability of long-distance communication.
Application
■ Leveling of building construction;
■ Machinery leveling;
■ Angle detection of various equipment;
■ Geological tilt measurement
■ Building tilt measurement
Technical Parameters:(Unless otherwise specified, the following parameters are typical values at room temperature 25℃)
Parameter
Condition
MIN
TYPE DEF
MAX
UNIT
Electrical Parameters
Power Source
3.2
3.7
4.2
V(DC)
Static current
3.7V Battery
16
25
mA
Working temperature
-10
60
℃
Recharging Temperature
-5
40
℃
Performance Parameters
Continuous working time
@ room temperature
40
42.5
45
Hrs
Dual Axis Measurement
Measurement Range1
±15°
°
Resolution1
0~±15°
0.001
°
Accuracy1
±0.005
±0.01
°
Measurement Range2
±60°
°
Resolution2
0~±60°
0.001
°
Accuracy2
±0.01
±0.02
°
Measurement Range3
±85°
°
Resolution3
0~±85°
0.01
°
Accuracy3
±0.1
±0.5
°
Measurement Range4
±90°
°
Resolution4
0~±90°
0.1
°
Accuracy4
±0.5
±1.0
°
Single Axis
Measurement Range
0
360°
°
Resolution
0~360°
0.001
°
Accuracy
±0.01
±0.02
°
Cross axis error
±1
%
Zero point temperature drift
-10~+60℃
±0.002
°/℃
±0.1
°
Start time
2.5
s
Zero Point deviation
±0.05
°
Other
IP level
IP66
Size
 94*64*32
mm
Note ①:Resolution refers to the smallest amount of change that the sensor can detect within the Measurement Range.
Note ②: Zero-point temperature drift refers to: the angular reading offset when the actual angle is at absolute zero degree when the ambient temperature is at room temperature.
Function introduction and operation instructions: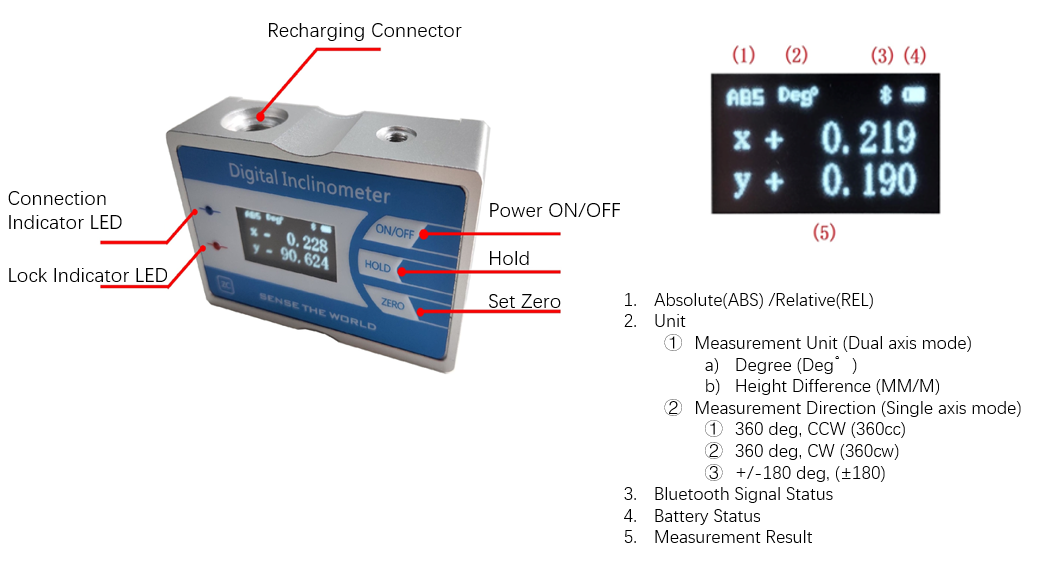 Size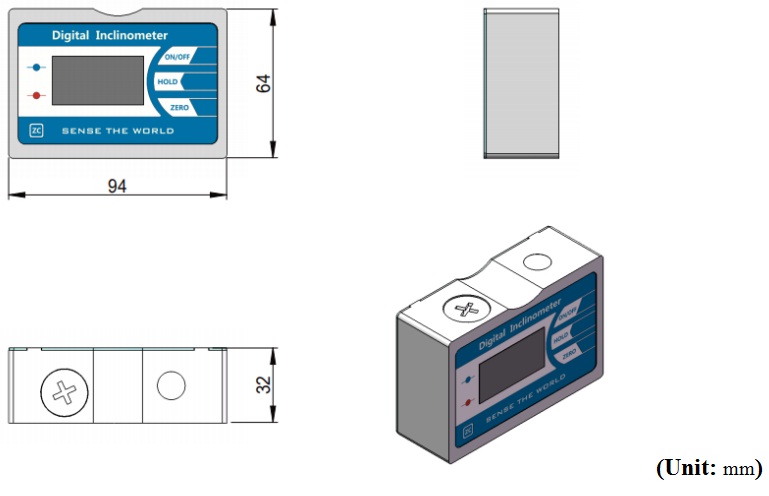 Precautions for use
This product has a built-in magnetic structure. Left, right, bottom side and back plate can be directly adhered on the surface of the steel object. Before usage, make sure that the installation surface is flat and the abtraction is stable and reliable to prevent the product from falling and causing damage. For example, if the product abstraction is unsteady or shaking, it will also affect the measurement results.
In the dual-axis mode, the Accuracy described in the technical parameter table is only for the absolute measurement mode. The Accuracy when using the relative measurement mode is determined by the range of the actual absolute angle. If necessary, please refer to the parameter table after setting the relative zero point and calculate the measurement accuracy.
Product Accuracy in single axis mode is not affected by absolute/relative measurement mode.
The default measurement mode is the is dual axis (absolute measurement) mode.
Measurement Direction:
When using dual-axis measurement mode, the product should be installed with the screen facing upwards, and the measurement directions of each axis are as shown in the figure below: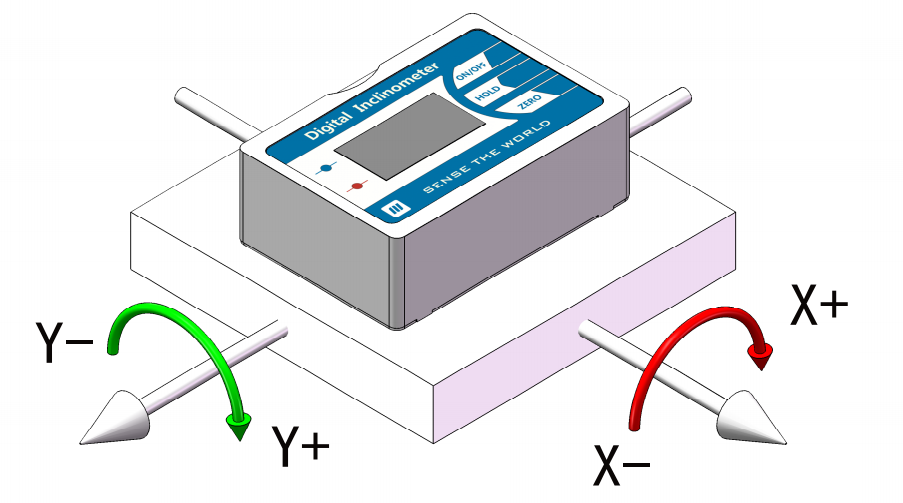 When using the single-axis measurement mode, the product is installed upright, and the measurement direction can be switched by long-pressing the HOLD key. The default is 360° CCW, refer to the figure below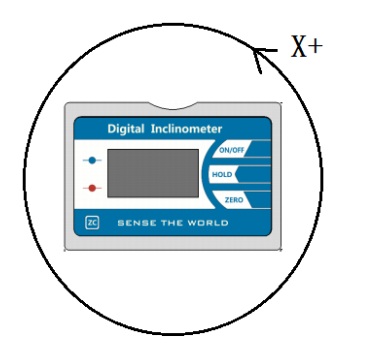 This product is a high-precision tilt measurement device. Please do not disassemble it. Any dismantling behavior after factory calibration may affect the final measurement accuracy of the product. The content in the technical parameter table is only responsible for the state of the product when it leaves the factory. Falling from a high place, etc. will cause changes in measurement accuracy and even product damage.
High-precision products are recommended to be calibrated regularly. If you need calibration services, please contact our company.
This information is for reference only, Shanghai Zhichuan Electronic Technology Co., Ltd. has the right to modify the information without notice