CANopen 2 axis inclinometer sensor with high precision and stability
| | |
| --- | --- |
| Product Model : | ZCT290K-LCS-H2-77 |
| Measuring Range : | ±60 ° ( ±90 °) |
| Output : | CAN |
| Measuring Axis : | Dual Axis |
| Accuracy : | 0.01°-0.09° |
| Application : | Machinery |
| IP Degree : | IP67 |
| Shell Size : | 54 * 44 * 20 mm |
| cable_line | 3m Waterproof Cable |
ZCT290K-LCS is a two-axis inclinometer sensor with high precision and stability. The total range is from -90º to 90º, CAN communication.
Ⅱ.Features:
High accuracy, high-cost performance,
Industrial devices entirely, high stability,
Reliable performance,
Aluminum casting case,
Protection grade: IP66
Wide DC supply, reverse power protection
Ⅲ.Applications:
Angle measurement
Security control, monitoring, alarm
Alignment control, warping control
Tilt position recorder
Ⅳ. Technical Parameter(unless special mark, the following data are typical value in-room environment(25℃).)
Item
Test condition
Min

value

Typical value
Max

value

Unit
Supply voltage
DC
8
12
30
V
Quiescent current
VCC=12.00V
21
27
32
mA
Operating

temperature

-40
+85
℃
Total range
Two-axis
±30、±45、±60、±90
º
Resolution(1
Total range≤±90
0.01、0.05、0.1
º
Accuracy(2
Total range≤±10
±0.05
º
±10<Total range≤±30
±0.1
º
±30<Total range≤±80
±0.15
º
±80<Total range≤±90
±2
º
Repeatability
Total range≤±10
±0.03
º
±10<Total range≤±30
±0.05
º
±30<Total range≤±80
±0.1
±80<Total range≤±90
±1
º
Zero temperature

drift(3

-40—+85℃
0.005
0.01
°/℃
Storing temperature
-40
+85
℃
Cable length
2.9
3
3.1
m
零点
0.2
Remark 1: Resolution means the least variation of measuring device which can be detected by
sensor during the measuring range. The resolution is 0.01º in the rang of 90º, and the bigger the
angle is, the lower the resolution is.
Remark 2: Accuracy means the difference between displayed value of the sensor and the true
value.
Remark 3: zero temperature drift means when the output is 0º under the room environment, the
offset of the angle when change temperature.
Remark 4: Sensitivity temperature drift means the sensitivity changes with the change of
environment temperature. The tolerance on the measuring results is as follow:
arcsin (sinθ/(1±Δ%))–θ [θ is actual angle,Δ is the offset of the sensitivity]
Remark 5: response time means the needed time of sensor output reaching 85% of the final output,
resulted by the step change of measured tilt.
Ⅵ.Installation size and wire connection definition:
In order to obtain the largest variable range of tilt, when the delivery tools and platform are in a normal
position, the module should be installed in horizontal.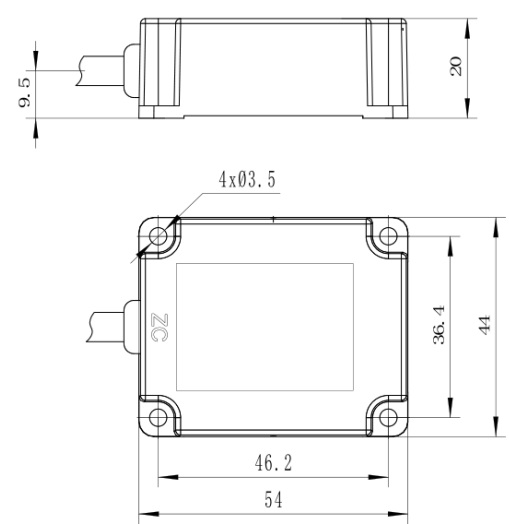 Wire connection definition:
White ―――― VCC           Yellow ―――― GND
Green ―――― CAN-H      Brown ―――― CAN-L