Digital Inclinometer for Solar Tracker Controller
| | |
| --- | --- |
| Product Model : | ZCT1360K-LBS-ALV-H6-77 |
| Measuring Range : | 0~360 ° |
| Output : | RS485 |
| Power: | Voltage(8~30V) |
| Measuring Axis : | Single Axis |
| Accuracy : | 0.1 °-0.5° |
| Resolution : | 0.1 ° |
| Application : | Solar Tracker |
| IP Degree : | IP67 |
| Temperature : | -40℃ ~ +85℃ |
With RS485 differential signal / Modbus protocol output and kilometers' transmission distance, ZCT1360K-LBS-ALV-H6-77 is a single-axis inclinometer developed and manufactured by Shanghai Zhichuan Electronic Technology Co., Ltd. for industrial field control.
All industrial-grade components are used internally, with stable and reliable performance. There is built-in temperature sensor, which corrects the temperature drift through temperature compensation, thus ensuring that the product can maintain very good zero-point characteristics over the full temperature range and the response frequency reaches more than 20Hz. The protection grade of the sensor reaches IP67, which can be applied to various harsh industrial environments and is a true industrial-grade product.
Unlike other inclination sensors (acceleration principle) with the same principle on the market, even if the mounting surface is not perpendicular to the horizontal plane, the sensor can provide very good accuracy output, overcoming the complex installation environment requirements of the industrial site.
Features:
Full measurement Range, High-cost effectiveness;
Compact size, lightweight, easy to integrated into various systems;
100% industrial components, reliable performance; Anti-shock,
anti-vibration.
Applications:

Wind deviation monitoring, Solar tracking, inclination measurement, horizontal
adjustment, vertical monitoring, attitude recording; engineering
machinery, surveying and mapping instruments, etc.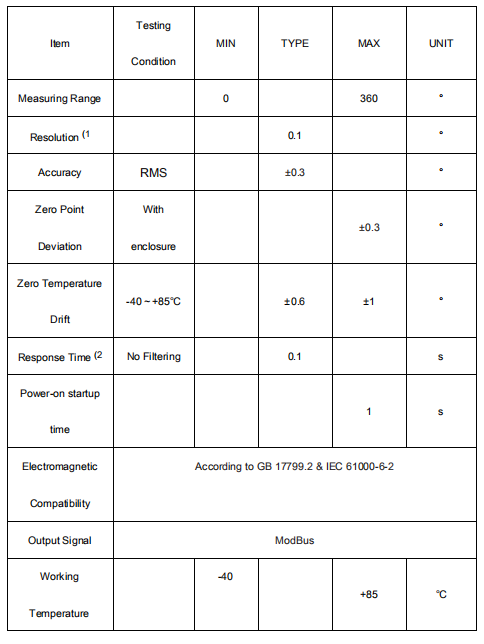 Enclosure Size: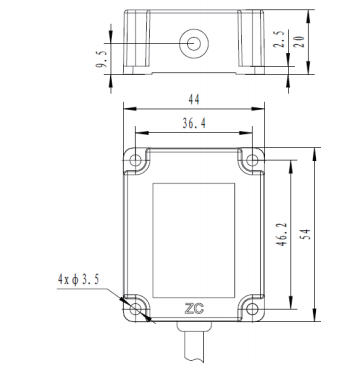 Installation Precautions:
1-This product should be installed as shown in the installation method as shown below.
The mounting surface is perpendicular to the horizontal plane.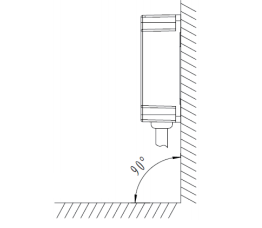 Even if the mounting surface (or running surface) is inclined at 30° from the horizontal plane,
there is almost no influence on the precision output of this product, and it can be applied to an
industrial site that does not meet the above installation requirements. As shown below: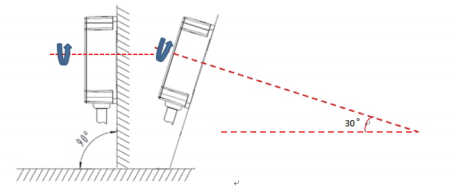 2-Measurement Direction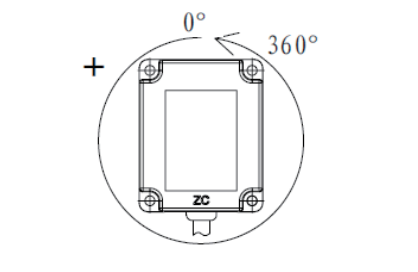 Remark: ZCT1360K-LBS-ALV-H6-77default cable length 1 Meter