Normal accuracy low cost robust 2 axis digital tilt sensor for agriculture machinery
| | |
| --- | --- |
| Product Model : | ZCT245J-LCS-E3-145 |
| Measuring Range : | ±45 ° |
| Output : | CAN |
| Power: | Voltage(8~30V) |
| Measuring Axis : | Dual Axis |
| Accuracy : | 0.1 °-0.5° |
| Resolution : | 0.1 ° |
| Application : | Machinery |
| IP Degree : | IP65 |
| Temperature : | -40℃ ~ +85℃ |
Ⅰ. General description
ZCT245J-LCS-E3-145 dual-axis tilt sensor is designed and produced by ZC SENSOR. Measuring range:± 45°, CAN communication.
Ⅱ. Features
Industrial devices entirely
Stable and reliable performance
cast-aluminum housing
with IP65 protection grade
Wide power supply
reverse power protection
Ⅲ. Application
Angle test
Safe control, monitoring, alarm
Standard control, bend control
Tilt attitude recorder
Ⅳ.Technical specification:(unless special mark, the following data are typical value in-room environment 25℃)
Item
Test condition
min.
typ
max
unit
Operation

parameter

Supply voltage
DC
8
12
30
V
Quiescent current
VCC=12.00V
50
60
mA
Working temperature
-40
+85
℃
Performance

parameter

Test range
Dual-axis
±45
degree
resolution(1
0.1
degree
accuracy(2
±0.5
degree
repeatability
±0.2
degree
Zero temperature drift(3
-40— +85℃
0.5
0.86
degree
Response time(4
100
 ms
Other

parameter

Storage temperature
-45
+125
℃
Protection
IP65
Remark 1:
Resolution means the smallest variation of measuring device which can be detected by the sensor during the measuring range.
Remark 2:
Accuracy means the difference between the displayed value of the sensor and the true value.
Remark 3:
zero temperature drift means when the output is 0º under the room environment,
the offset of the angle when change temperature.
Remark 4:
Response time means the required time for sensor output rising to 85% of the output, which is caused by a step change of the measured angle.
Ⅴ. CAN communication protocol
Pls see the product datasheet
Ⅵ. Wire installation and pin definition:
In order to get the biggest range of angle variation, the sensor should be installed horizontally when the carrier or platform is normal.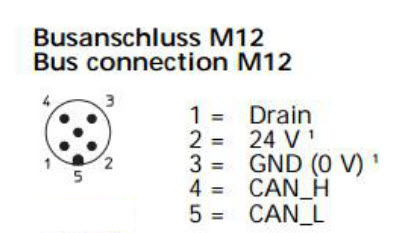 Wire connection:
PIN1 ―――― NC       PIN2 ――――  VCC power supply
PIN3 ―――― GND      PIN4 ―――― CAN_H     PIN5 ―――― CAN_L
Outside dimension :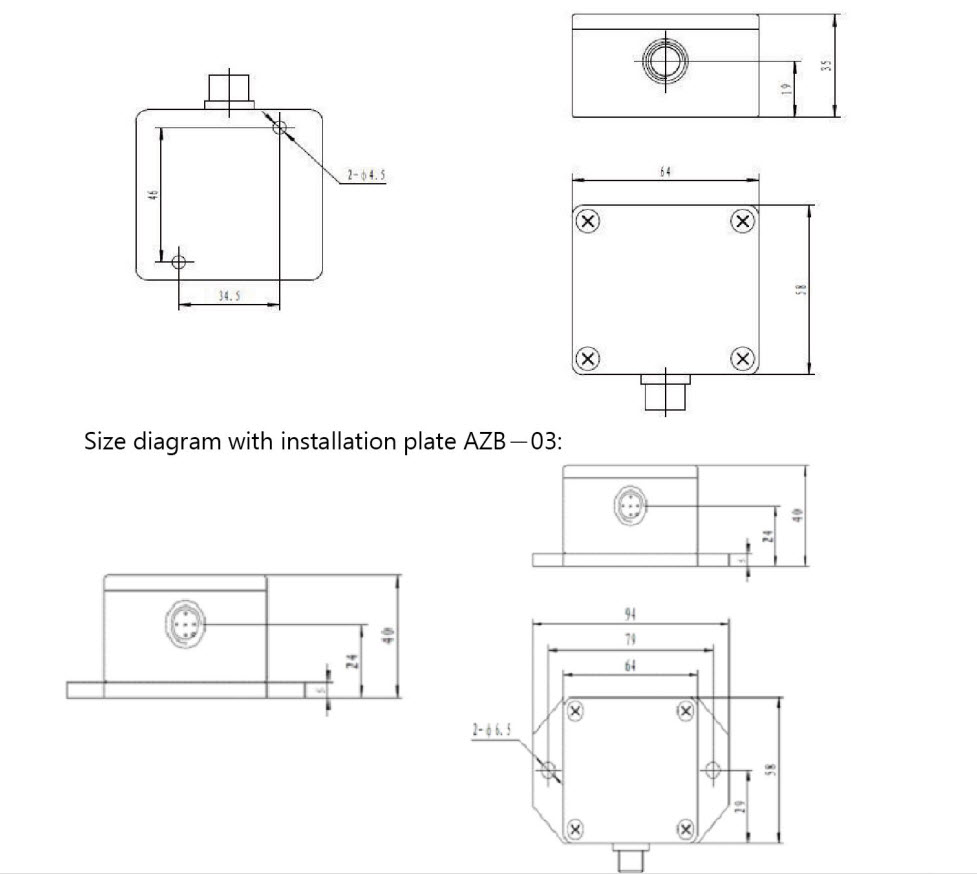 Ⅶ. Installation attentions: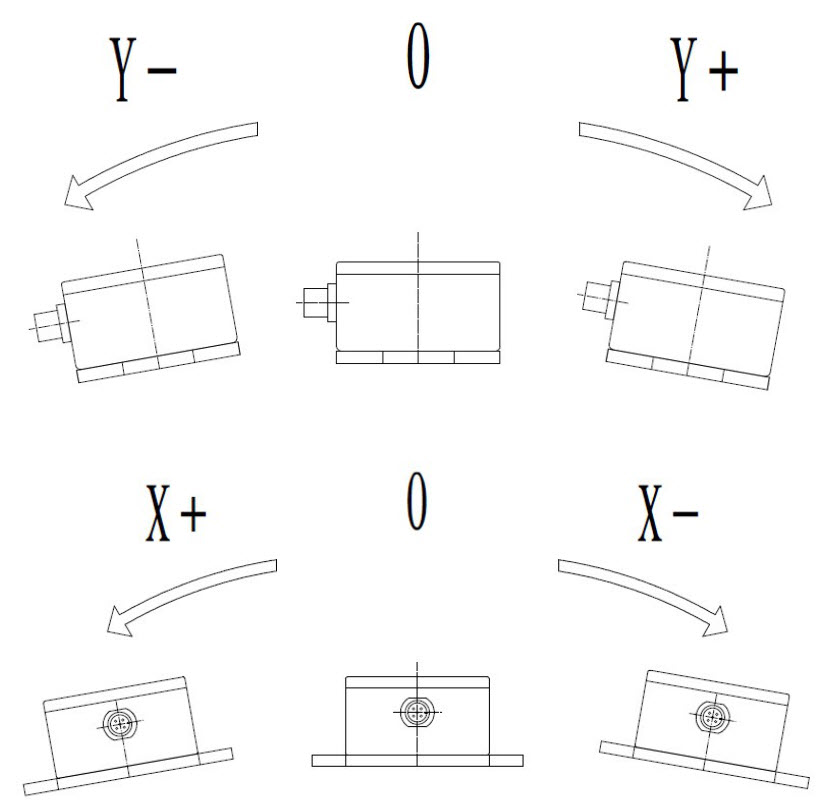 Order information:
Optional component-plate: AZB-03;
Countersunk head screw: M4*12;