Dual-axis high accuracy inclinometer bare board
| | |
| --- | --- |
| Product Model : | ZCT210M-NNQ |
| Measuring Range : | ±10 ° |
| Output : | TTL |
| Power: | Voltage(8~15V) |
| Measuring Axis : | Dual Axis |
| Accuracy : | 0.01°-0.09° |
| Resolution : | 0.01° |
| Application : | Solar Tracker |
| Temperature : | -40℃ ~ +85℃ |
ZCT210M-NTR is a dual-axis inclinometer which is designed and manufactured by Shanghai Zhichuan Electronic Tech Co., Ltd. The maximum measuring range is ±10°, the accuracy is 0.05°, and it's TTL output.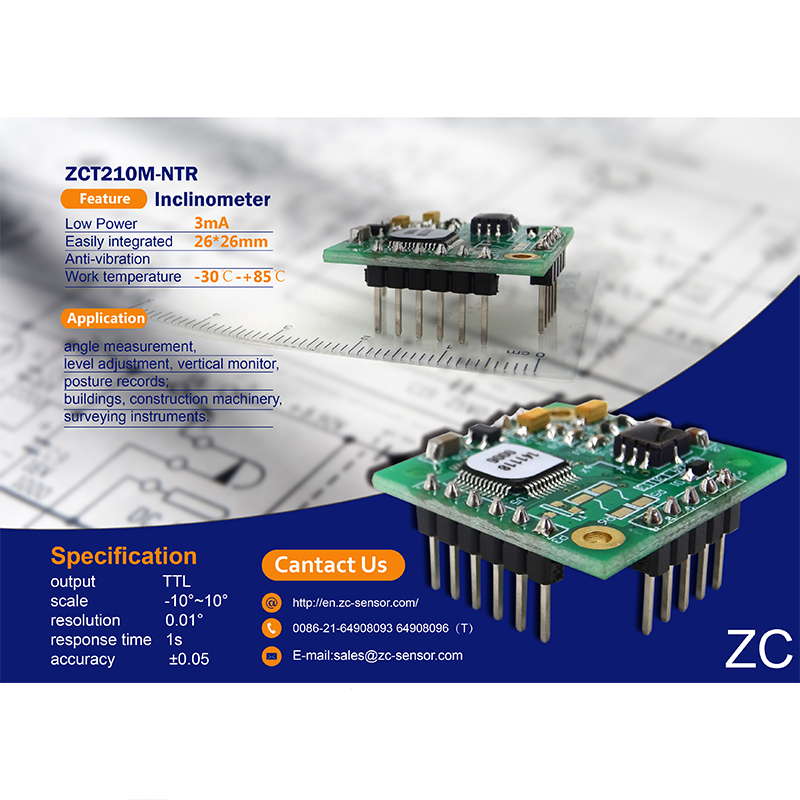 Technical parameter:(Unless otherwise specified, the following parameters were measured at room temperature 25°C
1) Operation parameter:
Item
Condition
Min.
Typ.
Max.
Unit
Supply voltage
DC
5.5
15
V
Quiescent current
No-load, horizontally state,Vcc=3.3V
2.5
3.3
mA
Output interface
USART
3.3V TTL level
2)Performance parameter:
Item
Condition
Min.
Typ.
Max.
Unit
Measuring range
-10
+10
°
Resolution(1
0.01
°
Repeatability
±0.01
±0.02
°
Accuracy(2
 ±0.05
°
Cross-axis sensitivity
0.5
%
Zero temperature drift
-40~+85℃
0.003
°/℃
0.25
°
Sensitivity temperature drift
±0.3
±1
%
Response time(3
0.5
s
Powering on time
2
s
Note 1: resolution is the smallest variation that can be detected by the sensor.
Note 2: accuracy is the differences between the sensor's display values and actual value.
Note 3: response time is the time when sensor's output reach 85% of the final output , as for the step change of the inclinometer.
3)Environment suitability:
| | | | | | |
| --- | --- | --- | --- | --- | --- |
| Item | Condition | Min. | Typ. | Max. | Unit |
| Storage temperature | | -40 | | +95 | ℃ |
| Work temperature | | -40 | | +85 | ℃ |