High Accuracy Two Axis Voltage Output Tilt Sensor
| | |
| --- | --- |
| Product Model : | ZCT230L-LMS-124 |
| Measuring Range : | ±30 ° |
| Output : | Voltage |
| Power: | Voltage(8~30V) |
| Accuracy : | 0.01°-0.09° |
| Non Linearity : | ±0.2 %/FS |
| Application : | Machinery |
| IP Degree : | IP65 |
ZCT230K-LMS-124 is a dual-axis tilt sensor developed by Shanghai Zhichuan Electronic Technology Co., Ltd., measuring range ±30 degrees, high precision linear 0~5V voltage output. Can be widely used in the field of construction machinery.
Features:
All use industrial devices, stable and reliable performance
Superior impact and vibration resistance
Reverse polarity protection
Cast aluminum housing, protection class IP65
Applications:
Construction machinery, engineering vehicles
Robots, textile machinery
Mining machinery
Safety control, monitoring, and alarm.
Technical data:(room environment of 25℃)
1.Operation parameter:
| | | | | | |
| --- | --- | --- | --- | --- | --- |
| Parameter | Test condition | Min. | Typ. | Max. | Unit |
| Power | | 9 | | 32 | V(DC) |
| Quiescent current | No load, Vcc=12V | | 50 | 60 | mA |
| DC output impedance | | | 200 | | Ω |
| Operation temp range | | -40 | | +85 | ℃ |
| Store temp range | | -45 | | +85 | ℃ |
2. Performance parameter:
Parameter
Test condition
Min.
Typ.
Max.
Unit
Measuring range
1-axis
-30
30
°
Linearity range
-29
29
°
Resolution
0.01
°
Zero output voltage
2.45
2.5
2.55
V
Zero temp drift
-40~+85℃
±0.008
°/℃
±0.5
±0.86
°
Nonlinearity(1
±0.2
±0.3
%/FS
Sensitivity (2
82.333
83.333
84.333
mV/°
Nonlinearity means the vibration degree between the best fitting line and the output line in the range from –29°to +29°.
Sensitivity means:Vsens ={Vout(@+30°)-Vout(@-30°)}/{30-(-30)°}[mV/°]
3. Other parameters:
| | | | | | |
| --- | --- | --- | --- | --- | --- |
| Parameter | Test condition | Min. | Typ. | Max. | Unit |
| Dimension | Without cable and fastener | | 64*64*41 | | mm |
| Cable length | | 4.95 | 5 | 5.05 | m |
Input-output characteristics:
Input-output relation: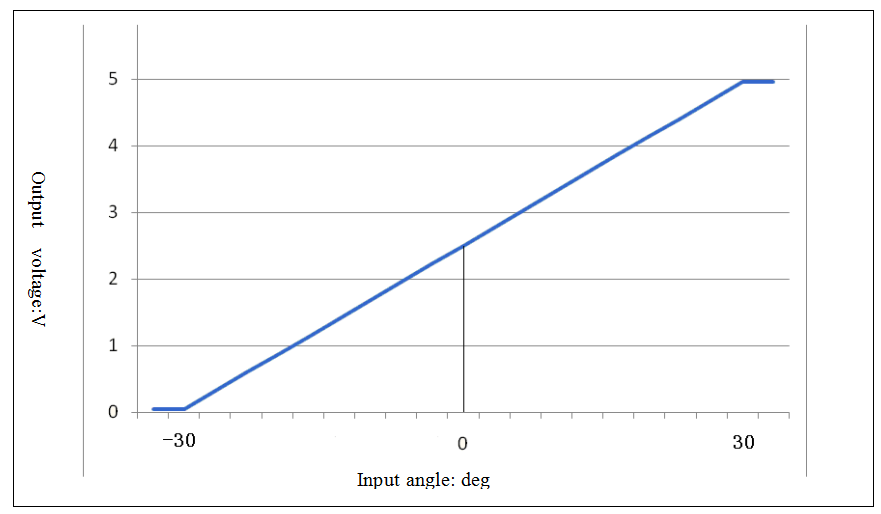 Mounting Size unit:mm
1.PCB mounting size: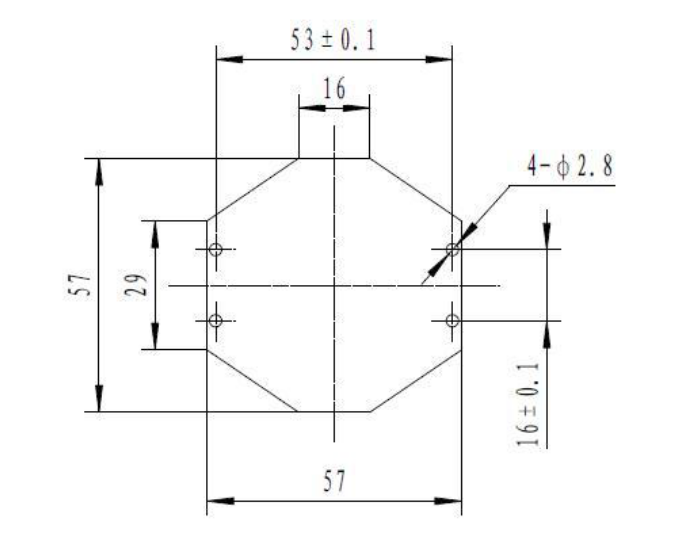 2.aluminium alloy housing size: