Single Axis Current Type Inclination Sensor
| | |
| --- | --- |
| Product Model : | ZCT1XXJ-XPS-A |
| Measuring Range : | ±10 ° ( ±20 °) |
| Output : | Current(0~20mA) |
| Power: | Voltage(12~24V) |
| Resolution : | 0.1 ° |
| Non Linearity : | ±0.4 %/FS |
| Application : | Machinery |
| IP Degree : | IP66 |
ZCT190J-LPS-A is a single-axis current type tilt sensor designed and produced by ZC Tech. The measuring range is 0°-90°, standard 4 ~ 20mA output. It is with good anti-jamming features, suitable for long-distance transmission.
Features
Standard 4~20mA output, Two separate tilt sensor, high reliability, Shockproof 1000g
Applications
Angle measurement of construction machinery, Load moment indicator
Model P/N Remark
ZCT1XXJ-XPS-A series, xx means degree, x means housing material, we now have L-Aluminum alloy, S- Plastic, F- Stainless steel;
Technical Data:(room environment at 25℃)
Item
Test condition
Min.
Typ.
Max.
Unit
Electronic specification
Supply voltage
12
30
V(DC)
Operating current
VCC=24V/no load
15
25
mA
Load resistance
Current type(VCC=24V)
600
Ω
Operating temperature
-40
+85
℃
Performance specification
Measuring range
1-axis
0
90
°
Resolution①
0.1
°
Sensitivity②
4-20mA output
0.087
0.089
0.091
mA/°
Non-linearity③
VCC=24V

RL=20Ω

±0.4
%/FS
Response frequency
3
Hz
Operating current
VCC=12V/no load
25
30
mA
Zero temperature drift
-40—+85℃
0.008
°
Cable Length
0.95
1
1.05
m
Others
Housing size
72*72*45
mm
Remark 1: The smallest angular increment at which a detectable change in output can be measured.
Remark 2: Non-linearity means the devation degree between output curve and the best fitting line.
Remark 3: Sensitivity is defined as Isens ={Iout(@90°)-Iout(@0°)}/{90°}[mA/°]
Characteristic of Tilt angle – Output current :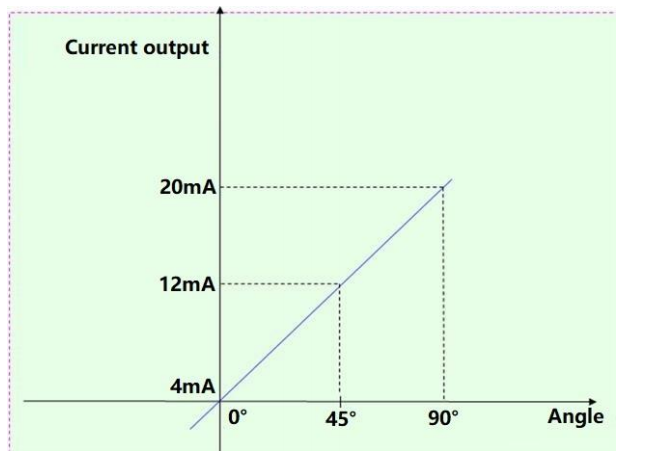 Housing Dimension(unit:mm):