» ZC LoRa Sensor ZCT800ML-215SR Ensures the Tunnel Safety of Wenyi West Road in Hangzhou
Post time: 12-19-2019
Wenyi Road Tunnel: East from Baoyu North Road, connecting Desheng Expressway, west to Zijingang Interchange. The length of the whole tunnel is 5.124 kilometers. The tunnel adopts double-hole two-way four lanes. The ground adopts two-way six lanes and the designed speed is 60-80km/h. The completion of the Wenyi Road Tunnel will fill the last piece of the puzzle for Desheng Expressway, which is of great significance for relieving the traffic congestion of Wenyi Road and improving the traffic capacity of Desheng Expressway.
The opening of the Wenyi Road Tunnel has also won many "firsts" in Hangzhou and even Zhejiang Province. The diameter of the shield machine used in the Wenyi Road Tunnel is currently the largest in Hangzhou The three 11-meter-level shields were on site construction at the same time. The shield machine successfully passed through the subway line 2 in operation, and it has become the first operation of the large-diameter shield millimeter-level underpass operation tunnel in Hangzhou and even Zhejiang Province.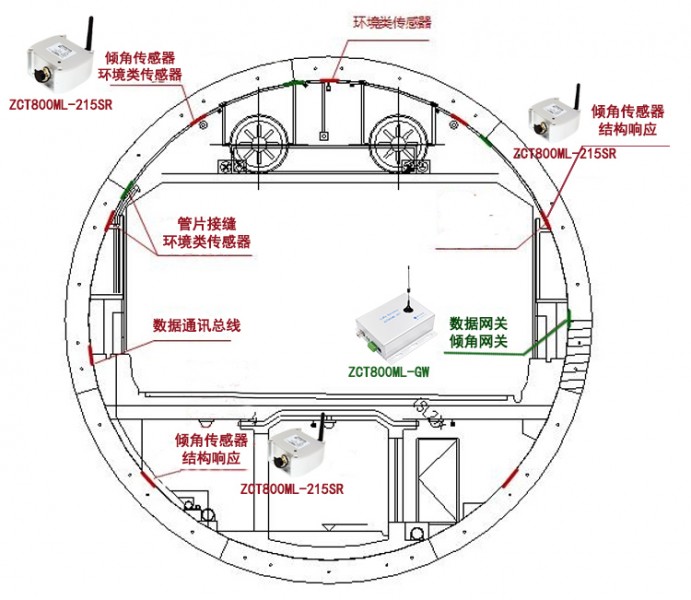 The Wenyi Road Tunnel uses a variety of high-tech equipment, such as driverless cleaning vehicles that can automatically avoid vehicles. More than 400 monitoring probes to completely ensure the tunnel's safety. The wireless LoRa tilt sensor ( Model: ZCT800ML-215SR) developed by ZC Sensor, consists of a gateway and multiple high precision dual axis wireless LoRa tilt sensors. The accuracy of the tilt sensor ZCT800ML-215SR is 0.005°, and the distance between the gateway and the sensor can be up to 3-5 kilometers. It can realize real-time and effective monitoring of multiple monitoring points in a complicated tunnel, which effectively ensures the safety of the underground tunnel.
From the initial stage of the tunnel construction to the current trial operation stage, the ZCT800ML-215SR has been monitoring it in real time to ensure the safety of the tunnel and the surrounding environment.
---