Single Axis Current/Voltage Tilt Sensor Inclinometer
| | |
| --- | --- |
| Product Model : | ZCT1XXK-LPS-X64 |
| Measuring Range : | ±15 ° ( ±90 °) |
| Output : | Current(0~20mA) |
| Power: | Voltage(9~32V) |
| Resolution : | 0.01° |
| Non Linearity : | ±0.2 %/FS |
| Application : | Machinery |
| IP Degree : | IP67 |
ZCT1XXK-LPS-X64 is a single-axis high-precision current-mode inclination sensor developed by Shanghai Tianchuan Electronic Technology Co., Ltd. The analog current output of 4~20mA is based on the standard three-wire system. It has strong anti-interference characteristics and is suitable for long-distance signal transmission.
Product features:
All industrial devices have stable and reliable performance.
Shock resistance, vibration resistance
Strong aluminum alloy shell, protective grade IP67
Product applications:
Construction machinery, construction vehicles
Safety control, tilt monitoring
ZCT1XXK-LMS-X64 Technical specification(room environment 25℃)(ZCT1XXK-LPS-X64 is current output instead of the voltage output, other parameters are same with ZCT1XXK-LMS-X64)
Parameter
Test condition
Min.
Typ.
Max.
Unit
Electronic specification
Supply voltage①
9
32
V(DC)
Quiescent current
When supply is 24V
30
40
mA
Operating temperature
-40
85
℃
Performance specification
Measuring range②
ZCT100K-LMS-64
0
90
°
ZCT1C0K-LMS-64
-15
105
°
ZCT1F0K-LMS-64
-90
100
°
ZCT1K0K-LMS-64
-90
90
°
ZCT1360K-LMS-64
0
360
°
Resolution
0.01
°
Non-linearity③
±0.2
%/FS
Sensitivity
ZCT100K-LMS-64
55.56
mV/°
ZCT1C0K-LMS-64
47.6
mV/°
ZCT1F0K-LMS-64
50
mV /°
ZCT1K0K-LMS-64
55.5
mV /°
ZCT1360K-LMS-64
13.9
mV /°
Zero temperature drift
-40~+85℃
±0.008
°/℃
±0.86
°
Load resistance
VCC=24V
600
Ω
others
Size
84*55*37
mm
Cable length④
5.9
6
6.1
m
Remark:
① In normal operation state, make sure the supply voltage is in the allowable range, and 24Vol is introduced.
② The inclinometer should be installed vertically.
③ Non-linearity means the deviation between output curve and the best fitting line in the measuring range.
④ Default cable length is 6m. Please let us know if you need other length.
Output features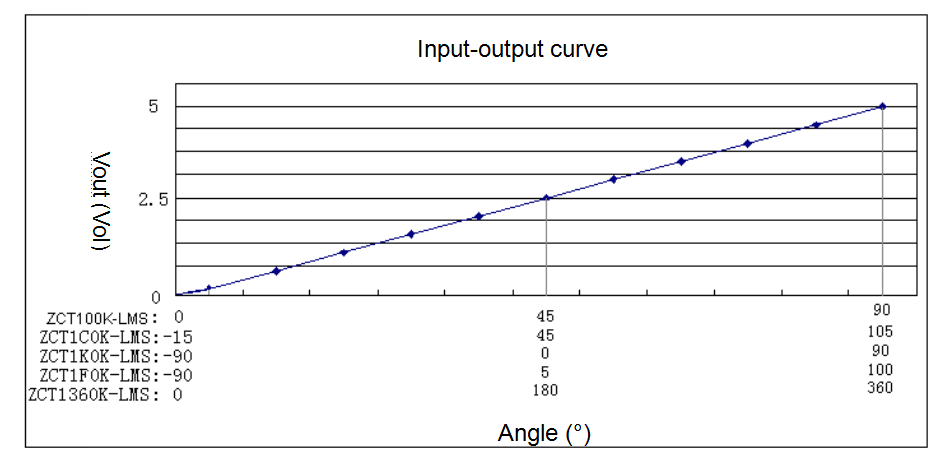 Remark:
Relevant relationship of tilt angle and output voltage (theory value)
Angle =V out / sensitivity
Size (unit:mm)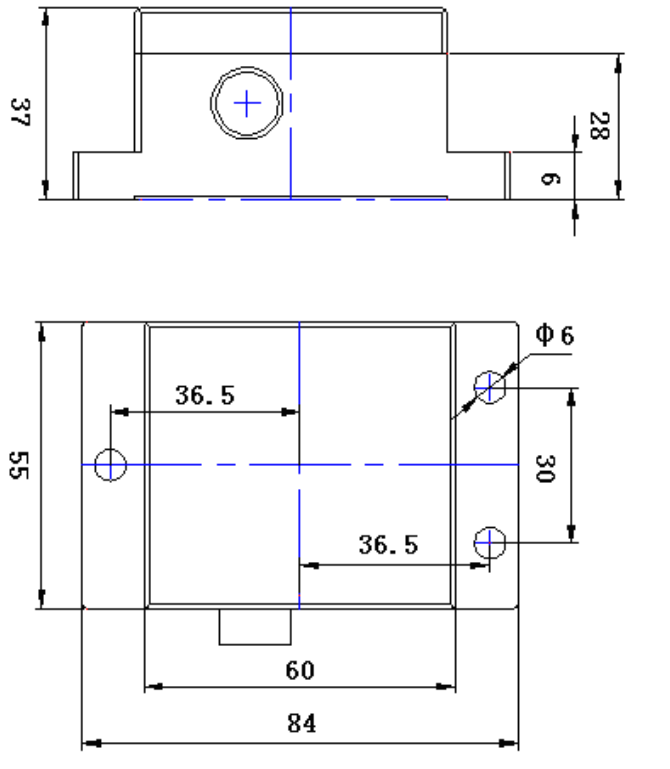 Installation and connection diagram
About mount methods,please refer to the following. If the mount surface or the running surface slops, there will be an error for the measuring results.

Operating state

Order information: (Please add the cable length,default is 6m)
 ZCT100K-LMS-64      measuring range  0~90 deg; 
 ZCT1C0K-LMS-64      measuring range  –15~105 deg;
 ZCT1K0K-LMS-64      measuring range  -90~90 deg;
 ZCT1F0K-LMS-64      measuring range   -90~100 deg;
 ZCT1360K-LMS-64      measuring range   0~360 deg;