» Inclinometer Tilt Sensor for Ancient Buildings Structure Protection
Post time: 07-19-2019
The history of Chinese culture goes back to ancient times, the ancient buildings, as a part of Chinese culture and history, are becoming more and more important in modern cities. And the protection of the overall structural safety and stability of the ancient building mainly includes the following points.
1. Environmental Monitoring: temperature and humidity, wind speed and direction, rainfall and other environmental impact;
2. The Overall Stability Monitoring: tilt, settlement and other conditions monitoring, to prevent the overall collapse or tilt;
3. Partial Structure Monitoring: stress train, displacement, and deformation monitoring on stressed body, automatic alarm, take preventive measures!
Following schematic based on "IoT" ( Internet of Things) can give you a simple vision of the Ancient Building Monitoring System.

The monitoring system consists of sensor system, data acquisition system and data analysis software. After gathering the measured signal, the online monitoring system transmits the gathered data through optical fiber to the monitoring center and save the date to the data center server. Through the wired network transmission, all users who are able to connect to the Internet can remotely observe and process the data.
By connecting with the mobile APP, computer or other media to the cloud platform, the data transmission and sharing can be easily achieved. All aspects of the monitoring process can be transmitted and shared timely and effectively, which can greatly improve the convenience of data processing, and if an emergency occurs, the researchers can handle it timely and take measure to ensure the safety of the ancient buildings.
Case One: Use of LORA Inclinometer Sensor ZCT600ML-215SR for Ancient Building – Zhenhuai Tower
Address: Huai'an, Jiangsu, China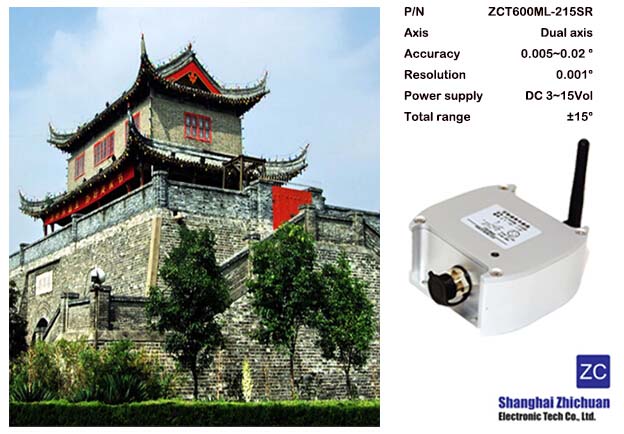 Our high precision wireless LORA inclinometer sensor ZCT600ML-215SR can be used in this "IoT" system for ancient building monitoring. It is dual axis with ±15 degree measuring range, the accuracy is 0.005°, and the power supply is DC 3~15Vol. It is embedded with RTC, wireless awakening and low power consumption in sleep mode. The maximum transmitting distance is 5000m. And it is also used for safety monitoring in industrial production and construction.
It is focused on low power consumption, with the power of inside battery, the LORA inclinometer sensor can continuously work for up to 4 years, if each 4hours acquire data. With wireless data transmission in real time, it also supports network, several inclinometer can communicate with gate way in star type at one time, makes the monitoring job more efficient.
Case Two: Application of Inclinometer Sensor ZCT215M-LBS-ABUS-E3-4505 for Ancient Building – Shamei Mansion
Address: 190 Beijing Dong Road (Sichuan Zhong Road), Shanghai, China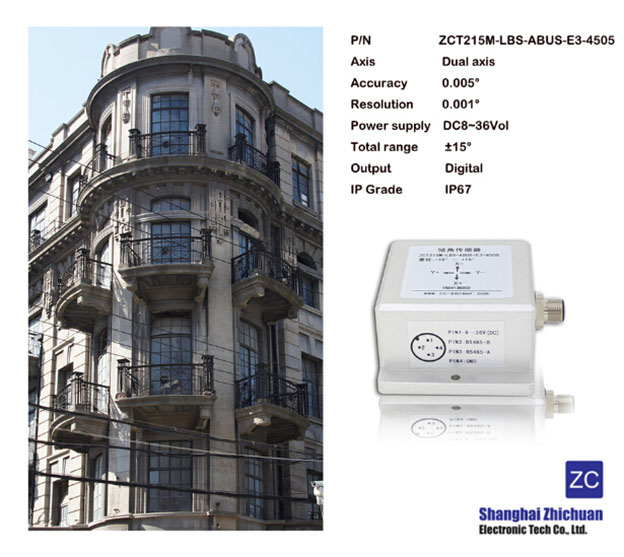 ZC Tech dual axis inclination sensor ZCT215M-LBS-ABUS-E3-4505 can be mainly used to monitor the overall stability , tilt monitoring, settlement monitoring of ancient buildings, the overall collapse or tilt detection, partial structure monitoring, and the main force part of the stress and strain, displacement, deformation monitoring, automatic alarm monitoring and so on.
Case Three: Application of Tilt Sensor ZCT230M-LBS-BUS-3105 for Gymnasium and Apartment of Sochi Winter Olympics Our digital tilt sensor ZCT230M-LBS-BUS-3105 has being used for buildings of Sochi Olympics in Russia. It is dual axis, high accuracy digital inclinometer support network. The tilt sensor and other strain gauge and as well as extension meter were integrated into the whole monitoring system to implement the data monitoring in real-time. And then the monitoring team can easily control the system even in long distance.
If new applications in ancient building monitoring system are achieved, the new updates will come soon!
---